Every couple of weeks I receive an email from Scholars at Risk (SAR) like this one:

What SAR does is try to find temporary refuge for college professors, teachers and sometimes students who are in fear for their lives because of the role they play in their home countries.  At Davis we've hosted a Scholar at Risk and have also had scholars from the program visit us for lectures.  I hope that with the easing of the financial crisis we can return to this practice.
While threats to their lives may not be directly related to their area of research, these scholars are often targeted because of their position as educated and respected critics of the régimes under which they live, or just because they represent modernity and secularism, as in the case of the assassination of Iraqi intellectuals in the midst of the American occupation.
SAR is hosting its 10th Anniversary Conference:  Courage to Think Dialogues with Provocative Minds early next month.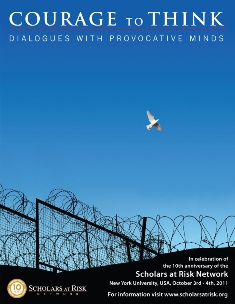 As a program it is descended in a way from the various groups who helped Jewish and anti-Nazi intellectuals escape to the West during the World War II.  The best example of that effort is the work of Varian Fry (1907-1967), an American journalist who rescued thousands of refugees, but also assisted some of Europe's premier painters, poets and authors to safety.  This included Marcel Duchamp, Siegfried Kracauer, Jean Arp, Marc Chagall, Hannah Arendt and many others.
Those looking for a link between "Human Rights and the Humanities" should look to the work of Fry then and SAR now as evidence of both how the exercise of freedom of expression matters as a key human right, and how critical human rights action is to the protection of the lives and livelihoods of intellectuals.
Why would governments target poets, painters, and writers?  What is that they do that is so distasteful to brutal and rights-abusing régimes?  In America where humanists and the humanities are (considered) so marginal to real life, to politics, to power itself, it is hard to understand  that in much of the world, ideas and those who think them (or paint them or sing them) can still be considered dangerous.
A Quiet American: The Secret War of Varian Fry, Andy Marino
Surrender on demand, by Varian Fry (originally published in 1945)