3rd Annual Spring Human Rights Symposium – May 8, 2013 Student Community Center – 10:00 am-Noon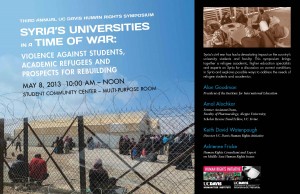 Third Annual Spring Human Rights Symposium
Syria's Universities in a Time of War: Violence Against Students, Academic Refugees and Prospects for Rebuilding
May 8, 2013
10:00 am – noon
Student Community Center – Multi-purpose Room
Allan Goodman
President of the Institute for International Education
Amal Alachkar
Former Assistant Dean, Faculty of Pharmacology, Aleppo University;
Scholar Rescue Fund Fellow, UC Irvine
Keith David Watenpaugh
Director UC Davis Human Rights Initiative
Adrienne Fricke
Human Rights Consultant and Expert on Middle East Human Rights
Sponsors: UC Davis Human Rights Initiative, The Institute for International Education/Scholar Rescue Fund, University Outreach and International Programs, UC Davis Human Rights Coalition, Davis Humanities Institute and the Don and Dolores Chakerian Gift
Syria's civil war has had a devastating impact on the country's university students and faculty.  This symposium brings together an academic refugee, higher education specialists and experts on Syria for a discussion on current conditions in Syria and explores possible ways to address the needs of refugee students and academics.  Watenpaugh and Fricke will also share results of a recent research visit to Jordan where they worked with Syrian refugee students and academics.
In March, a rebel shell fell on Damascus University killing 15 architecture students; in January, a rocket from a government airplane struck Aleppo University as students were taking their examinations – leaving 82 dead, mostly students, but also refugee children who had taken shelter there.
Since the uprising against the Syrian régime began with peaceful protests in March of 2011, students have been at the forefront of the non-violent pro-democracy movement, serve in the Syrian military and have taken up arms as rebels.  Students make up a large portion of the Syrian refugee population in the neighboring states of Jordan, Lebanon and Turkey. And Syrian academics have been fleeing civil violence and government repression.
Follow this link to listen to Watenpaugh's recent CapRadio interview on the conditions facing refugee students living in camps in Jordan.
http://www.capradio.org/news/insight/2013/04/24/insight-042413