About
UC Davis Human Rights Initiative
HUMAN RIGHTS AND THE HUMANITIES WEEK
March 5-9, 2012
Co-sponsored by the Davis Humanities Institute & the Center for Regional Change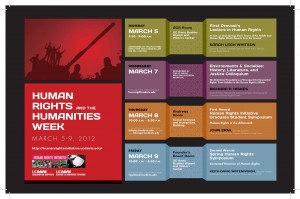 Now is a critical moment in the study of Human Rights. From the fall of the Berlin Wall and the end of Apartheid to the revolutions in the Arab World, immense change has been sparked by citizens speaking in the language of human rights who challenged the brutal régimes that oppressed them for generations. More recently, larger issues of diplomacy, Neoliberalism, environmental degradation and climate change have put additional stress on human rights around the globe. But human rights are not just a legal or political issue. Humanists and social scientists have a place at the table. The humanities, after all, explore what it means to be human, and any conversation about human rights should include a vision for the way people should and could live. The study of human rights allows us to respond to deeper questions about suffering, justice, and power that transcend the established disciplines. Humanists should not simply write about the past; we must help shape the future.
The UC Davis Human Rights Initiative builds on our university's strengths in teaching and research and works to create opportunities for greater collaboration and conversations around the topic of human rights across the disciplines. To do this, the Initiative will support ongoing undergraduate and graduate programs, including the new Human Rights Minor; host a Human Rights Symposium in Winter 2012 exploring the contested histories of human rights to better understand current debates about the history of human rights, their violation and protection. Among the questions posed: Where do human rights come from? What role have they played in post-World War II anti-colonial struggles? How has human rights discourse changed after 1989 and the end of the Cold War?
In Spring 2012, the Initiative will build on the themes of the symposium with a faculty research seminar that brings together faculty members from an array of disciplines to continue the conversation. Finally, as a bridge beyond the humanities, the Initiative will underwrite the development of a graduate seminar offered jointly by the Colleges of Letters & Science and Agricultural and Environmental Sciences. Tentatively entitled "Human Rights and Humanitarianism," the two-quarter research seminar would be designed by faculty working in the fields of International Agricultural development and Community and Human development with an eye to attracting students from both colleges. The Human Rights Initiative will lay a strong foundation for the teaching and research of Human Rights at UC Davis and serve as a seeding ground for external development and major grants.